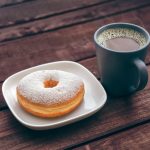 Coffee Hour has returned to the Jambo Java Café!
We are excited to announce that Coffee Hour is back!  Current schedule is the first Sunday of the month, from 10:00 to 11:00 AM between the two Sunday Masses. (We are starting slowly due to staffing and supply issues but watch here for updates.)
Karen Napoli has graciously agreed to be the Coordinator and is now organizing volunteers. If you would be willing to help, please contact the office.
A reminder that there is no charge for the coffee or donuts but donations are accepted. Donuts are from Donuts Delite.
Please join us on December 4 for coffee (or tea or hot chocolate), a donut, and fellowship!