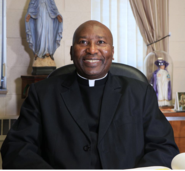 My name is Fr. Paul Gitau. I was ordained a Diocesan priest for the Archdiocese of Nairobi, Kenya, on June 18, 1994 by Maurice Cardinal Otunga at Nairobi Holy Family Basilica. After ordination, I was appointed Assisting Priest at St. Patrick's Parish, Thika (1994-1995). Then I was named a Pastor of Archangel Gabriel Mutomo Parish (1996-1998); Pastor, Our Lady of Mt. Carmel, Ngarariga Parish (1998-2000); and Pastor, St. Patrick's Parish, Thika (2000-2003). St. Patrick's was a cosmopolitan parish serving about 12,000 parishioners within 7 churches, 3 hospitals, 2 nursing homes, a prison and many schools. At this time I was elected Dean of Thika Deanary where I was in charge of six parishes, 12 priests and about 50,000 parishioners. I served as a member of the Archdiocesan Senate, collaborating with fellow deans and the Archbishop in matters of church policy and procedures (2001-2003).
On August 19, 2003, I came to the United States to do pastoral work and graduate studies, since I had Bachelors of Sacred Theology and Bachelors of Philosophy, both from Pontifical Urbanian University, Rome, that Kenyan Seminaries were affiliated with. On May 7, 2005, I graduated with a Master of Science in Human Service Administration and on May 9, 2009 a Master of Science in Mental Health Counseling, both from St. John Fisher College. I did my counseling internship at The University of Rochester Medical Center, Department of Psychiatry – Strong Recovery Chemical Dependency, dealing with people recovering from mental illness and substance abuse (2008-2009).
I served as Assisting Priest at St. Jerome and St. Monica; Parochial Administrator of Immaculate Conception/St. Bridget's and Co-Administrator of St. Frances Xavier Cabrini Parish. Then Bishop Clark appointed me to come and serve you here at St. Paul's Church. I am happy to be your servant leader and I promise to serve you in the best way possible. We thank God for the work you have done under the good leadership of my predecessor, Fr. Stan, and we pray for him as he takes a new appointment at Our Lady of the Lakes.
It is important to mention that for our community of St. Paul's to continue to increase in number of parishioners and develop both spiritually and physically, each of us has a part to play. We need to strive to develop strong faith and trust in order to cooperate with God and one another. I am happy, because I understand this community of St. Paul is a wonderful and loving church and there are so many people who volunteer and serve in different ministries. Please know that I'm flexible and I do listen to the people's opinions and suggestions. The staff, pastoral council, finance council, liturgy coordinators, volunteers and all of you will be my advisers before I make important decisions. I do believe in team work and everyone has something to offer and that is why I like empowering and delegating people to do different things.
Once again, I promise to serve you without reservation according to my ability, knowledge and experience. Thank you for being here at St. Paul's Church.