Safe Environment Requirements for Volunteers
Thank you for your service as a ministry volunteer at St. Paul's Church. The Diocese of Rochester has asked all parishes to have all volunteers fulfill the following criteria:
Complete a Creating a Safe Environment (C.A.S.E.) Training course, which includes a Code of Conduct Form, every three (3) years.
Click here to download the instructions for completing the online training.
Click here to go to the DOR online training site.
Provide your email address to to Joan Sullivan, our CASE Coordinator, at joan.sullivan@dor.org , in order to initiate a required Criminal Record Check. You will receive an email with further instructions to complete the Record Check Authorization.
If you are required to drive as part of your ministry responsibilities, complete the Volunteer Driver Information Form and DMV Record Check annually. Click here to view the Driver Form.
The C.A.S.E. Training Course, Background Check Authorization, and Driver Information Forms (if applicable) must be completed at least 10 days BEFORE volunteer service is scheduled to begin.
---
For more information from the Diocesan Office of Safe Environment, on the current policies for volunteers as well as employees, click here.
If you have any questions please contact our CASE Coordinator Joan Sullivan at St. Paul's at 671-2100 or joan.sullivan@dor.org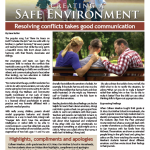 Creating A Safe Environment Fall 2022 Newsletter