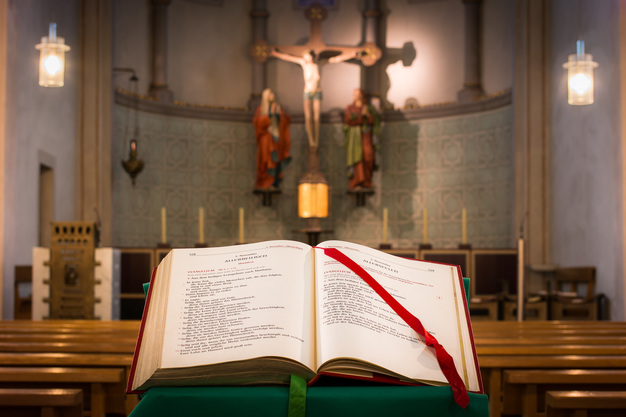 Lector Prayers
Prayer of Lectors During the Week
Dear Jesus, thank you for calling me to be a lector at Your Eucharistic celebrations. Let me take this role seriously and diligently prepare myself for it by studying the sacred texts before Mass, and by striving to be a better Catholic Christian.
By my physical action of reading, I am the instrument through whom You become present to the assembly in Your word and through whom You impart Your teachings. Let nothing in my manner disturb Your people or close their hearts to the action of Your spirit. Cleanse my heart and my mind and open my lips that I may worthily proclaim Your word. Amen
Pray of Lector of the Word Prior to Mass
Lord, invest me with Your Powers as I prepare to proclaim the Marvel of Your Message. I have prepared my readings, I have tried to take within me the meaning of what I am about to proclaim; help me, I ask, to read not just with my lips but with my whole heart and soul.
Lord, make me a hollow reed so that Your Voice will be heard by all who will hear me. Free me of excessive concern over my performance, over the impression I create in this Sacred Action. Convert my feelings of nervousness, turn all my apprehensions into an energy for proclaiming Your Word with power and authority.
May Your Spirit fill me as it fills the holy words that I am about to proclaim. Amen
Lectors Commitment
As lectors, called by God, we strive to:
Appreciate silence and do more listening. Slow down and live simply. Pray often: spontaneous as well as formal. Pray for the community we serve. Read and pray with the Scriptures. Let them guide our lives.
Handle each religious symbol, vessel, book or object with respect and care. Be attentive, joyful, hospitable and gracious when proclaiming God's Word. Know ourselves with our gifts and weaknesses. Be at ease with ourselves so that we may become worthy instruments of God.
Reflect on the meaning of our faith, our community and our personal call to serve the Lord. Act with reverence: stand, walk, kneel, speak, sing and serve reverently. Realize that our service is more than a job or a profession. It is a ministry flowing from the power of our Baptism. It is a gift, a right and a responsibility.
Open our hearts and minds to the message and movement of the Spirit. Be ready for change that is directed by the Spirit. Study and grow in knowledge and understanding of our liturgical ministry. Cultivate a heart of gratitude and praise. See all of life as gift.
  Resources for Lectors
Daily Bible Readings, Audio and Video Every Morning | USCCB
http://www.usccb.org/bible/readings-audio.cfm
United States Conference of Catholic Bishops. Besides the day-to-day readings you can bring up in handy printout form, this well-known site also has recordings from which you can listen to and practice.
Catholic Resources - Felix Just, S.J. (catholic-resources.org): https://catholic-resources.org/
An excellent Catholic resource for Bible, Liturgy, Art, and Theology
www.Univeralis.com; Or www.iberviary.com Or www.divineoffice.org
Praying the Liturgy of the Hours (Divine Office)
Lector's Notes—Home (lectorprep.org)
This site has lector preparation notes to help lectors prepare to proclaim the Scriptures in our Sunday assemblies. For each day's first and second readings (and occasionally for the gospel), the Notes give the historical and theological background, plus suggestions on oral interpretation.
This site offers lector check lists and personal training.
The Catholic Lector - DeBary, FL
This is an all encompassing site offering lector notes, audio readings, Scripture commentaries, lector training materials, a lector blog with and more.
Books and Media from Amazon.com - The Catholic Lector - DeBary, FL
Prayers, Meditations & Videos - The Catholic Lector - DeBary, FL
Preparation for Lectors and Readers - The Catholic Lector - DeBary, FL
http://netministries.org/Bbasics/bwords.htm
An amazing biblical word Pronunciation Guide.
http://www.lectorworks.org/index.html
At Lector Works you will find: A series of thoughts about the lectionary readings of the day, as an oral proclamation within the church's public prayer, and how the writer would want to have them declared and received effectively.
Lector Training Workbook
Lectio Divina (Divine Reading): Praying Scripture
How to Practice Lectio Divina - A Sacred Journey
1. lectio | read
Select a short passage from Scripture that you would like to explore and read the passage through many times. Read it aloud, read it silently, read it slowly, pausing between each line or phrase.
As you continue to read the text, listen for a word or phrase that stands out to you: What draws you in? What resonates with you? What makes you uncomfortable? What leaves you with questions? You will take this word or phrase with you into step 2, meditation.
2. meditatio | meditate
Now it's time to focus in on the word or phrase that stood out to you. Bring the word or phrase to mind and meditate on it; repeat it in your mind slowly, noticing what comes up for you. As feelings emerge, let them sink in without distracting you from your meditation—the word or phrase might still have more to give.
3. oratio | pray
As you transition from meditation into prayer, begin communicating with God about the word or phrase that stood out to you. Explore what made it capture your attention initially and share any feelings that came up for you during your meditation. As you share these things in prayer, take note of any new insight you are given in regards to the text and/or what has been awakened in you through your word or phrase.
4. contemplatio | contemplate
As your time in prayer comes to a close, spend a few minutes in God's presence contemplating what has happened within you throughout the time of reading, meditation, and prayer. Bring to mind any new insights you've received during this time, whether personal or in relation to the text, and let them sink in, coloring your way of being. You might be surprised how much such a simple and quiet process can alter your perspective and give you new direction.