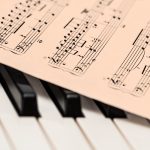 Join Our Choir For Christmas!
Singers with past choral experience (it doesn't have to be recent!) are invited to join our choir.
Rehearsals are on Thursday evenings from 7:00-8:30. The Choir sings at weekend Masses on a rotating basis (one Mass per weekend.)
St. Paul's has a lovely choir with a long tradition of excellence. Please consider joining these great folks for good music and fellowship. Contact John Gaspar at john.gaspar@dor.org if you are interested or have questions.