The John Walsh Library is open before and after weekend Masses as well as whenever the office is open during the week. Plan to take advantage of this great parish resource!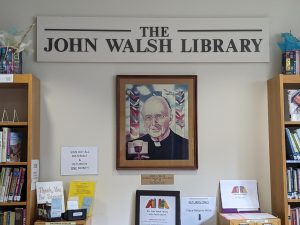 Check It Out!
Remember to stop by the John Walsh Library when you come to Mass. There are many resources available for Advent and Christmas for both adults and children. Check it out!
Book Review
Robinson, David.  The Busy Family's Guide to Spirituality.  Reverend Robinson draws from the monastic tradition of The Rule of St. Benedict to provide guidance for busy families finding their way into spiritual life together.  From his own experience, he realizes that family life can get so rushed and disjointed that there seems to be little time left for God.  He believes Benedict's practical spiritual guidebook has much to offer the 21st-century family in all its many configurations.  He follows The Rule chapter by chapter, drawing upon ancient wisdom, applying Benedict's insights to family life today.  At the end of each section, there are a variety of exercises, including family activities, resources, and discussion questions.  (Call No. 248.4-ROB)
The John Walsh Library committee from St. Paul's was pleased to present Fr. Joe Hart as a guest speaker on October 18, 2022. Fr. Hart spoke about Bishop Fulton Sheen's time as the Bishop of the Diocese of Rochester. The event was presented as follow up to the library committee's gift to the parishioners of the book, The Wisdom of Fulton Sheen.
Fr. Hart gave us a unique perspective of the Fulton Sheen's local impact. The bishop had a large national presence, and his local influence is of great interest, especially because he created St. Paul's parish in Webster, New York.
If you missed his presentation, click the button below to view the video:
Fr. Hart talk on Bishop Fulton Sheen 10-18-2022
The Wisdom of Fulton Sheen, a collection of inspiring quotes by the Bishop is our "Parish Read" this year. Copies are available in the Library.
Did you know that Bishop Sheen's TV program called "Life is Worth Living" (even though he wasn't from Webster!) ran for 5 seasons, then was renewed as The Fulton Sheen Program for 7 years? At its peak, it drew 30 million viewers weekly!!! Did you watch it?