The John Walsh Library is open before and after weekend Masses as well as whenever the office is open during the week. Plan to take advantage of this great parish resource!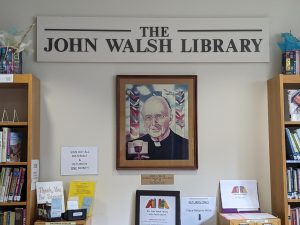 Check It Out!
The cart in the Library is now featuring a selection of books about Mary. There are also books by Bishop Fulton Sheen to complement our Parish Read book.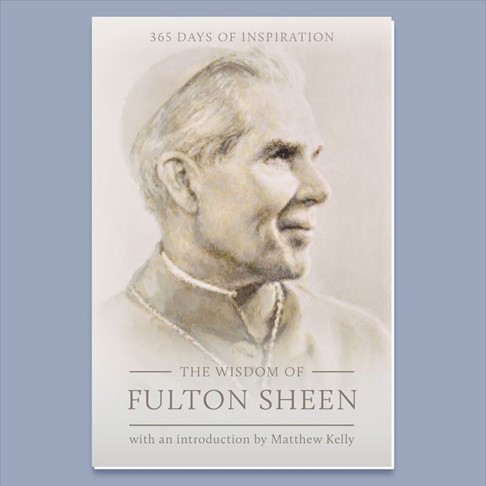 The Wisdom of Fulton Sheen, a collection of inspiring quotes by the Bishop is our "Parish Read" this year. Copies are available in the Library.
If you went to a Catholic school, do you remember writing "JMJ" (for Jesus, Mary, and Joseph) at the top of all your papers? Some say that Bishop Sheen started that by writing it at the top of his chalkboard while broadcasting on TV.
Book Reviews
Wolff, Catherine, ed. Not Less Than Everything
Many Catholics today are struggling with the conflict between tradition, and modern culture and scientific discovery. Joan of Arc, Ignatius of Loyola, Caravaggio, Dorothy Day, and Oscar Romero are among the many people whose stories are told in this book. They all had one thing in common: they were Catholics whose beliefs caused them to be persecuted. They spoke or acted in ways that challenged the prevailing authorities, knowing they risked reputation, livelihood, sometimes even their heads—all while remaining faithful. Today, they are revered by the church. We can learn from them about what It means to be a member of a community even while in tension with that community. The essays in this book are written by some of our best-known Catholic writers, including Joan Chittister, Charles Curran, Tobias Wolff, and Ann Patchett. (Call No. 282.092-WOL)
Martin, S.J., James. A Jesuit Off Broadway
Philip Seymour Hoffman, a Fairport native, was regarded as one of the best actors of his generation. A life-sized statue of him was recently placed outside the Dryden Theater; it will remain there until the fall when it will be moved to New York City. When Hoffman died tragically at age 46, Fr. Martin celebrated the funeral mass. He commented at the time, "Pope Francis reminds us that the sacraments aren't for perfect people; they are for the rest of us." Father Martin met Mr. Hoffman when he was the theological consultant for an off-Broadway play called The Last Days of Judas Iscariot, directed by Mr. Hoffman. Father Martin helped the cast and crew learn what happened in first-century Palestine to the itinerant preacher and the man who betrayed him. Martin also learned quite a bit himself—about acting, about the theater, about hard work, and even about the spiritual life. The play puts Judas on trial in purgatory with many eminent witnesses called to testify, including Mother Teresa, Freud, and Pontius Pilate. The central question was whether the betrayer of Christ deserved eternal damnation. (Call No. 812-MAR)