The John Walsh Library is open before and after weekend Masses. Masks are mandatory and capacity is limited to 2 persons at a time. Plan to take advantage of this great parish resource!
Happy New Year! The John Walsh Library has a gift for you. The book, The Wisdom of Fulton Sheen, is a collection of inspiring quotes by Bishop Sheen. This book will be our "Parish Read" this year. Enclosed with the book is a bookmark with more information about the parish read. If you did not yet receive one there are a few left. Pick up your copy (one per family, please) on your way out this weekend.
Book Reviews
Cassidy, Sheila. Made for Laughter The title of this book is taken from a quotation by Desmond Tutu: "We are made for goodness, we are made for love, we are made for laughter. . ." As a young doctor, Dr. Cassidy was imprisoned and tortured for treating a wounded revolutionary in Pinochet's Chile. When she was released and returned to England, she became an outspoken advocate for human rights.
Nouwen, Henri J. M. Life of the Beloved (Spiritual Living in a Secular World). (Introduction to Father N.) Father Nouwen informs us this book is the fruit of a longstanding friendship with a reporter for the New York Times who arrived in his office somewhat reluctantly one day to interview him. Nouwen sensed that this was a man full of gifts, anxiously searching for a way to use them. The two men were quite conscious of their radically different religious backgrounds, a secular Jew and a Catholic priest, but they became close friends. One day, the reporter asked him, "Why don't you write something about the spiritual life for me and my friends?" He persuaded Nouwen about the need for a spirituality that speaks to men and women in a secularized society. This book is the result of that request, but ultimately the audience for this book turned out to be searching Christians, not skeptics. In His mysterious way, God had used his secular friends to instruct his disciples. (Call No. 248.4-NOU)
Wiederkehr, OSB., Macrina. A Tree Full of Angels. (Seeing the Holy in the Ordinary). Many people are drawn to the sensational; stories abound about visions and trances, weeping statues, rosaries turning to gold. Even angels are in danger of becoming trendy. But we are rooted in an earth that God has proclaimed good. The Word was made flesh in our midst. Our greatest vision is to see God in the imperfect human family. As John Updike expressed it, "Giving the mundane its beautiful due." Holiness comes wrapped in the ordinary but every tree is full of angels. Will we unwrap this gift of the ordinary, beginning with ourselves? Will we gather up our frailty and our splendor, our joys and our sorrows, our dreams and our hopes and our failures to be consecrated at the altar of daily life? In this book of meditations, we value those crumbs that the world would toss aside, seeing little value in them. We know they are sufficient to nourish us; for the person who has learned to see with inner eyes, there are no leftovers. (Call No. 248.3-WIE).
Ortiz, Michael J. Like the First Morning (The Morning Offering as a Daily Renewal).
With the start of a new year, many of us seek a new start on our spiritual journey. Christ himself often went out alone, early in the morning, to pray. Many Christians have also discovered that beginning the day with an offering of prayer can renew their souls so they become like the first morning of creation with all its potential for grace. Each chapter of this book offers a brief reflection on the key points of the Morning Offering. Our world, broken by sin, will only truly be renewed from within. Offering all we have and are to the Lord is an indispensable element of this renewal. Alone, among all the visible creation, we are meant to behold—knowingly—God's goodness. By making a Morning Offering, we renew the wonder and promise of the morning of the Resurrection. (Call No. 248.4-ORT)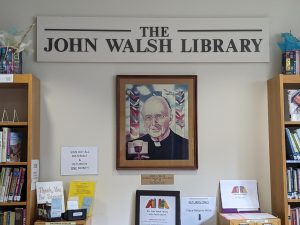 Rembrandt: The Christmas Story. The story of Christmas, so beautifully depicted in the Gospels, especially the Gospel of Luke, has inspired many artists, as well as ordinary people, throughout the ages. The Christmas Story combines texts from the Gospels with images from Rembrandt, one of the world's most beloved artists, to celebrate those events of long ago—the Incarnation, the Annunciation, the Visitation, the shepherds, the wise men, and the flight into Egypt. Thirty-four Rembrandt masterpieces, including oil paintings, pen and ink sketches, and black and white etchings, interpret with love and awe the greatest mystery and gift of all time: God's gift of His Son to an undeserving world. (Call No. 759.94)
Dear, S.J., John. Mary of Nazareth, Prophet of Peace (with an introduction by Joan Chittister, O.S.B.) Father Dear was once nominated for the Nobel Peace Prize by Archbishop Desmond Tutu, but he has struggled often to fulfill the biblical commandments to love both his neighbor and his enemy. In his struggle, he turned to the story of Mary as an example of how to live a life of peace and love. In her lifetime, she transcended the threats and hatreds of society to bring to us the Light of the World. By examining three key events in Mary's life—the Annunciation, the Visitation, and the Magnificat—he traces her steps to the path to peace. He also describes other examples of nonviolence leading to peace—Martin Luther King, Dorothy Day, Gandhi. He challenges us to live a life of peace and to proclaim to our violent world that, like Mary, we stand for something different. (Call No. 232.91-DEA)
Cotter, Theresa. Christ Is Coming: Celebrating Advent, Christmas & Epiphany.Our celebration of the Incarnation not only recognizes the birth of the historical Christ, it is also a time to recognize the sacramentality of everyday life. Being busy during this holiday season is not necessarily contrary to the spirit of the season. This collection of prayers, celebrations, reflections, Scripture readings, and projects for the Incarnation seasons of Advent, Christmas, and Epiphany will increase both the enjoyment and the blessedness of this wonderful season of anticipation and celebration. The busier we are, the more we need prayer and meditation to remind us that we need to focus on the coming of Christ. "A voice cries out: In the desert, prepare the way of the Lord." (Call No. 242.33-COT)
Stuhlmueller, C.P., Carroll . Biblical Meditations for Advent and the Christmas Season.
As Bishop Gumbleton states in his introduction, we are not very good at waiting. We are not used to it. We have instant coffee, microwave ovens, fast computers, instant-on TVs. Father Stuhlmueller wants us to experience the good that can come from waiting. His thoughts on Advent show us how to wait, not with anxiety, but with hope and anticipation leading to the celebration of Christmas. He presents Scripture passages, reflections, and prayers for each day of Advent and the Christmas season which bring us an ever more intense awareness of God's immediate but mysterious presence. "Lord you are coming and will not delay. You will bring every hidden hope to light and reveal yourself in these secret inspirations." (Call No. 242.33-STU)
Nelson, Gertrud Mueller. To Dance with God (Family Ritual and Community Celebration)
Ms. Mueller shows the modern reader the importance of ritual for connecting us to the meaning and flow of life. She explores the elements common to all celebrations and then examines the elements that are relevant to specific ones, including Advent which begins the Church year. It is a time of waiting. Nature seems asleep. The season is dark. What is to come is hidden from our sight. In the lengthy chapter on Advent, she suggests many ways to enrich the period of waiting, from creating a pyramid of light from apples and chopsticks, to restoring Santa Claus to his original role as a sainted father figure (St. Nicholas). She even includes a recipe for the traditional Nicholas cookies. The chapter which follows provides many ways to celebrate the Christmas season from Christmas Eve to the Feast of the Epiphany. (Call No. 263.9-NEL)
Martin, S.J., James. Between Heaven and Mirth.
Father Martin is one of our most popular authors whose sense of humor, humility, and thoughtful reflection appeal to many. He believes that holy people are joyful people. He assures us that God wants us to experience joy, to cultivate a sense of holy humor, and to laugh at life's absurdities, including our own humanity. There is no virtue in being joy-challenged. Drawing on scripture and his own experiences as a lifelong Catholic and a Jesuit for over twenty years, he illustrates how humor and laughter help us to live more spiritual lives, understand ourselves and others better, and more fully appreciate God's presence among us. Obviously, many situations in life are serious, even tragic; Father Martin does not expect believers to be "grinning idiots" at inappropriate times. But he wonders why so many religious people seem to believe that the absence of joy is a necessary part of their spiritual lives. Instead he believes earthly joy and laughter are a way of preparing for an eternity of happiness. (Call No. 248.4-MAR)
Chittister, Joan. Two Dogs and a Parrot. (What Our Animal Friends Can Teach Us.)
This book illustrates the role of animal companions in the development of our spiritual lives. It is written both for those who have pets and for those who wonder why so many people do. A loving human-animal relationship is built on mutual care and concern, on mutual responsibility and respect. Her stories about her mutual friends show how they drew her out of herself and made her aware of a whole other level of what it means to be alive. They helped her fulfill a human need to cling to nature even in a world made of glass and steel that has divided us from it. They taught her that we are here as part of creation, not as simply as consumers of it. She watched them cherishing life's pleasures and dealing with its struggles. In her pets, she has seen another face of God. (Call No. 636.088-CHI)
Francis, Pope.  A Stranger and You Welcomed Me (A Call to Mercy and Solidarity with Migrants and Refugees)
We have all seen the heartbreaking scenes at our border as migrants desperately try to enter the U.S. in search of a better life. Solutions to this chaos are not simple and it can be difficult to remember that many thousands of people worldwide are frantically trying to flee from mind-numbing poverty, terror, and oppression. Pope Francis reminds us we must move from considering migrants as threats to our comfort, to valuing them as persons whose life experience and culture can contribute greatly to the enrichment of our society. We need to welcome them by expanding legal pathways to their entry. We need to respect their humanity and protect them from assaults on their dignity. We need to promote them and their human development through such means as access to all levels of education. We need to integrate them by encouraging them to participate fully in our society. Every stranger who knocks on our door presents us with an opportunity to encounter Jesus Christ. (Call No. 261.8-FRA)